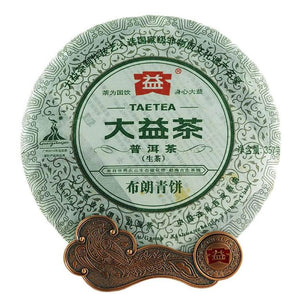 Origination:
Selected high quality tea materials from Bulang mountain organic tea plantation owned and managed by Menghai tea factory(Dayi). 
Fat and strong tea threads with clear tea hairs and great appearance. Brewed tea leaf is resilient. 
Taste: 
 Golden tea soup with brightness. Strong tea flavor with strength and Chaqi. Well balanced. Huigan (returning sweetness or after sweetness) comes fast. Strong saliva producing. Long lingering tea flavor. 
Storage:
Guangzhou natural storage.