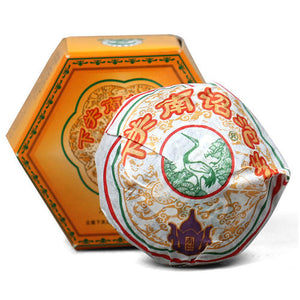 Using selected high quality tea materials. 
Tight and neat tea threads with multi tea hairs. 
On the surface, there are large buds covering the whole tuo. 
Cleat tea liquor with brightness. 
Floral and fruity tea flavor. 
Refreshing taste with mellowness and sweetness. 
Oilish smoothness and thickness. 
Minor bitterness and astringency. 
Well recommended for people who prefer sweet and soft sheng puerh tea. 
Guangzhou natural storage. 
——————————————————————————
"Nan Zhao" which is the name of an ancient kingdom located in Yun Nan province now. XG took this name for a new series of high-end tea from early last 90's. 
It has variations on style like tuo (nest), cake, brick, and on blend recipe including "Jin Ya" (Golden Bud Series), "Zhen Cang" (Collection Series) and "Chang Gui" (General Series), and also on weight etc.
All in "Nan Zhao" series has similar characters like using high ratio of large buds on the surface, more sweetness than general puerh.