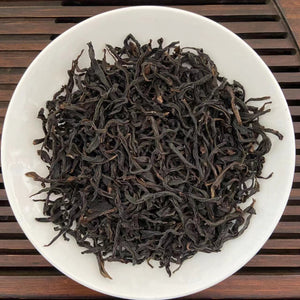 Experience the depth of flavor from old tree tea leaves, harvested in the spring of 2021. These leaves have been carefully roasted several times to a heavy level, enhancing their richness and complexity.

The tea presents strong and neat threads, tightly rolled, boasting an exceptional appearance.
The flavor profile is intriguing, combining a hint of spiciness with an underlying sweetness.
This tea offers a varied taste with a distinctive mellowness, a characteristic derived from the heavy roasting process, and the thickness attributed to the age of the tea leaves.
The aftertaste is long-lasting and fills the entire mouth, providing a satisfying and enjoyable experience.

Highly recommended for both seasoned and new tea drinkers looking to enhance their tea experience.

• About 'Ya Shi Xiang' (Duck Poop Fragrance): Despite its unappealing name, this is a high-quality tea known for its delightful floral fragrance. It is a variety of Dancong oolong, produced in the Fenghuang (Phoenix) mountains of Guangdong province, a region with a tea production history spanning approximately 1,000 years.