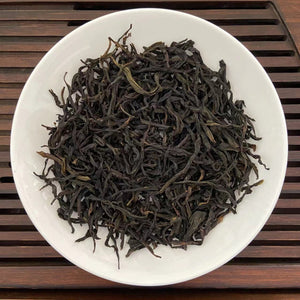 Presenting a tea of exquisite quality, characterized by large, strong threads that are tightly rolled, showcasing a remarkable appearance. This tea exudes an enchanting orchid fragrance, subtly intertwined with spicy notes and a honey-like sweetness, all of which are beautifully infused into the tea liquor.

The texture is thick, smooth, and resilient, ensuring a luxurious mouthfeel. The flavor is round and rich, offering a depth that is both satisfying and complex. The aftertaste is notably potent and lingers long in the mouth, a testament to the tea's robust character.

• About 'Mi Lan Xiang': This exceptional variety of Dancong oolong is cultivated in the Fenghuang (Phoenix) mountains of Guangdong province, an area with a rich tea production heritage dating back approximately 1,000 years. 'Mi Lan Xiang' is renowned for its distinctive aromatic profile and high-quality leaves, making it a prized choice among tea connoisseurs.