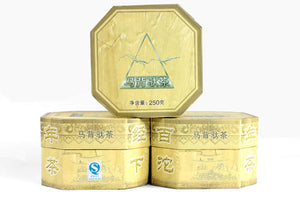 "Ma Bei" is a series designed as high-end tea for commemoration of ancient puerh tea transportation which quite relied on horse due to the tough and long roads spreading out from Yunnan to outside world. 
Tight and neat tea threads with multi tea hairs and great appearance. 
Honey like fragrance mixed with camphor flavor. 
Good on Huigan and saliva producing. 
Thick taste with strength. 
Mellow and smooth. 
Minor bitterness and astringency. 
Sweetness lingers long in mouth. 
Refreshing taste with resilience. 
Guangzhou natural storage.